Voyons pourquoi Vous avez décidé d'acheter des médicaments en ligne acheter flagyl sans ordonnance Acheter de la qualité des médicaments est devenu si facile, parce que vous pouvez le faire en ligne sur notre site.

05.12.2011
Sounds fancy right? Well good. Because it totally is. Another one of my goals for my
30 before 30 project was to get our closet super duper organized. I spent last weekend running to Ikea about a billion times (shoe shelves? check. scarf organizer? check. awesome baskets? double check.), throwing everything out of the closet and making husband try on (and get rid of) lots of stuff. I was basically a tornado. So, here are the before pics (almost too embarrassing to post) and the afters (organized oasis for fashion) as well as some helpful organizing tips. This has already made our lives so much simpler in the mornings. And I adore walking into our peaceful closet everyday.
Closet Organization Tips:
1. Bookshelves (we used the Ikea Billy Bookcase + the Height Extension Unit
+ 3 extra shelves) can be modified to make great inexpensive shoe shelves-
just add extra shelves for more space.
Now we can see all our shoes!
2. Pretty baskets (Ikea Pjas) keep sweaters, bags, scarves and hats easily
within reach, but look more orderly than just stacking everything on shelves.
Plus, we don't have towers of folded sweaters constantly toppling over.
3. Add a rug to dress up your closet. This one is a vintage one of my grandmother's.
It should be as beautiful, cozy & inviting as any other room.
4. Hooks keep all your necklaces and small handbags in plain site, and keep
them from becoming a tangled mess.
5. I used a basket to hold all my flip flops so they don't get scattered all over
the closet floor and so they don't take up valuable space on our lovely shoe shelves.
6. Matching hangers keep everything at the same height and look cleaner than a
jumble of different ones. (I am going to invest in huggable ones, just haven't
gotten around to it yet...)
7. Keep boots upright and in good condition by rolling an old magazine and putting
it in the boot shaft. Works like a charm.
I would love to hear any good organizing tips or tricks you have. And please share your closets!
XO
-L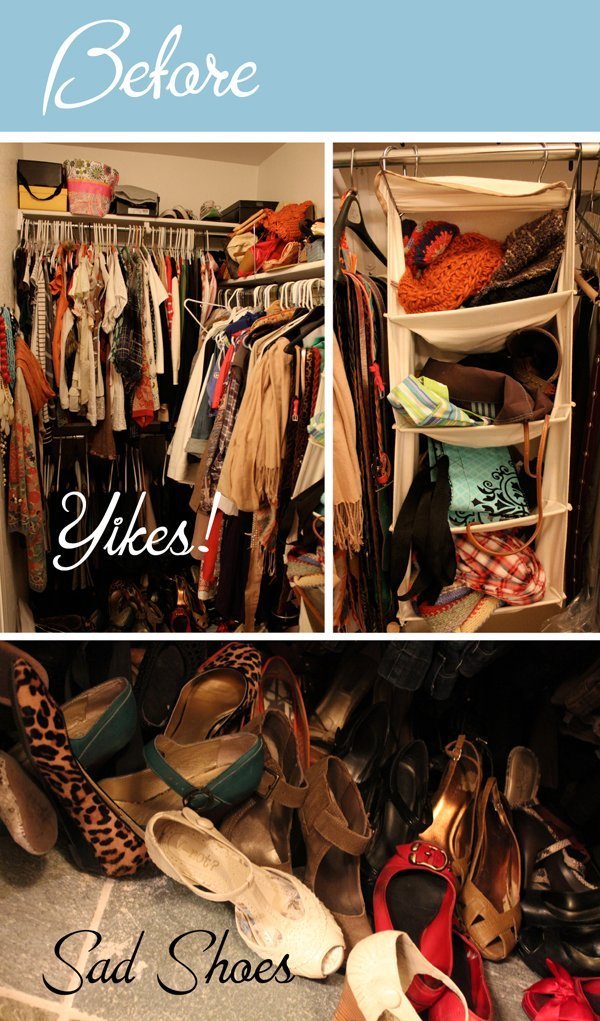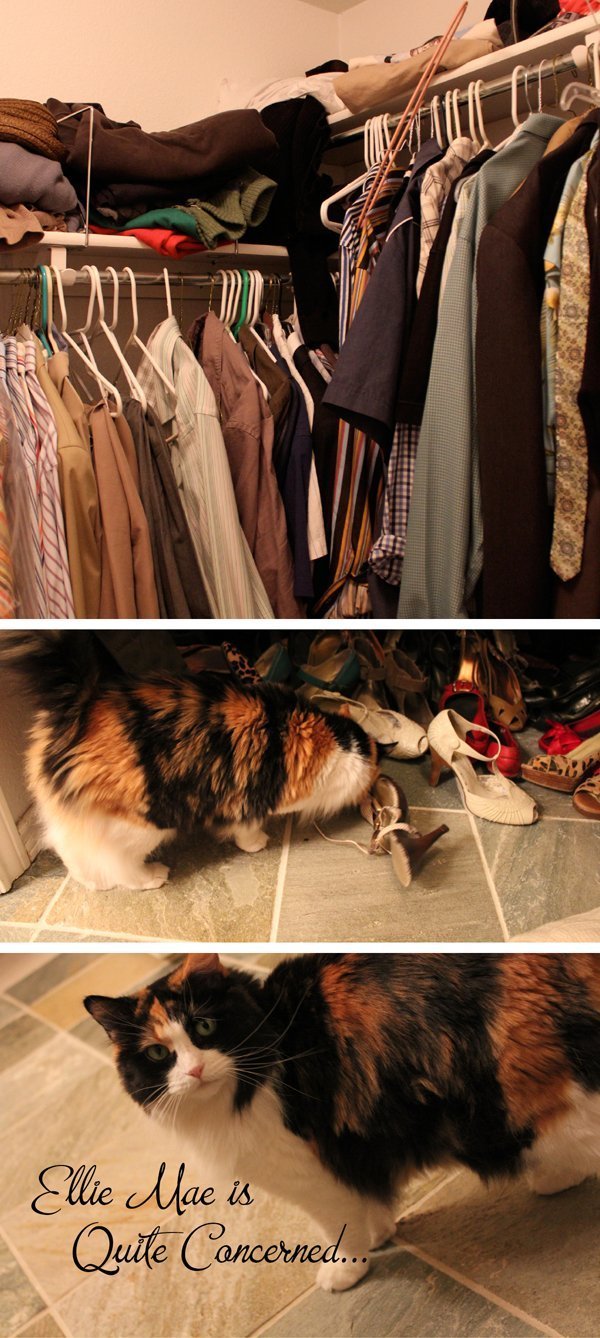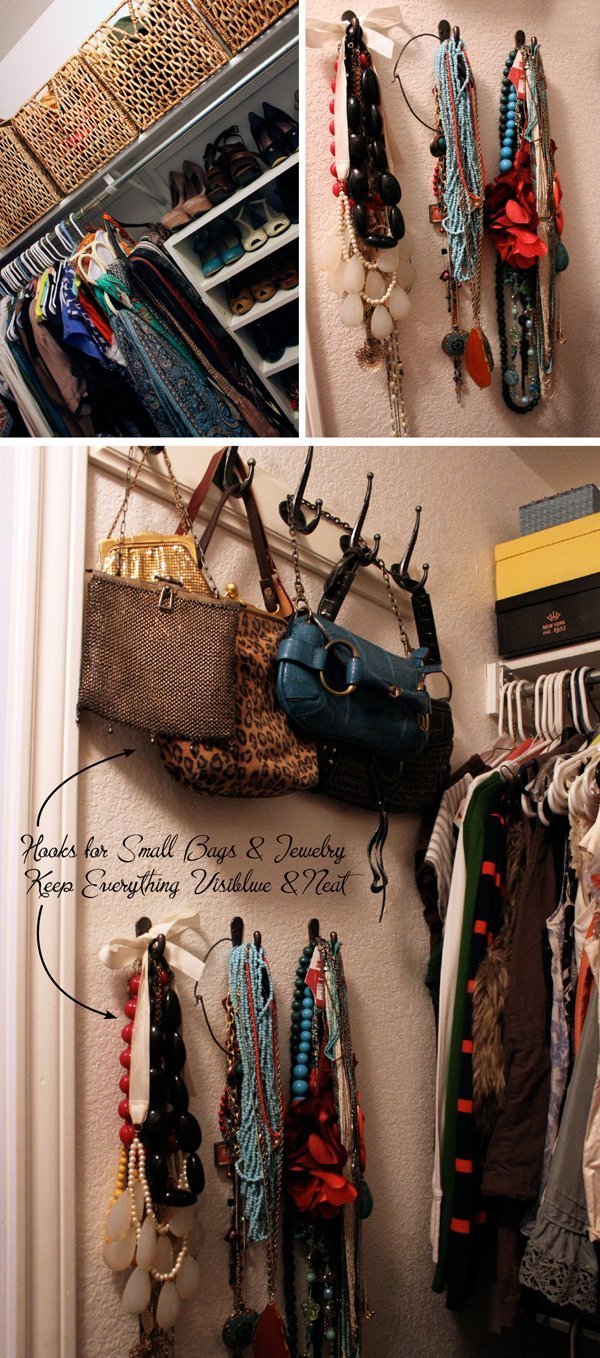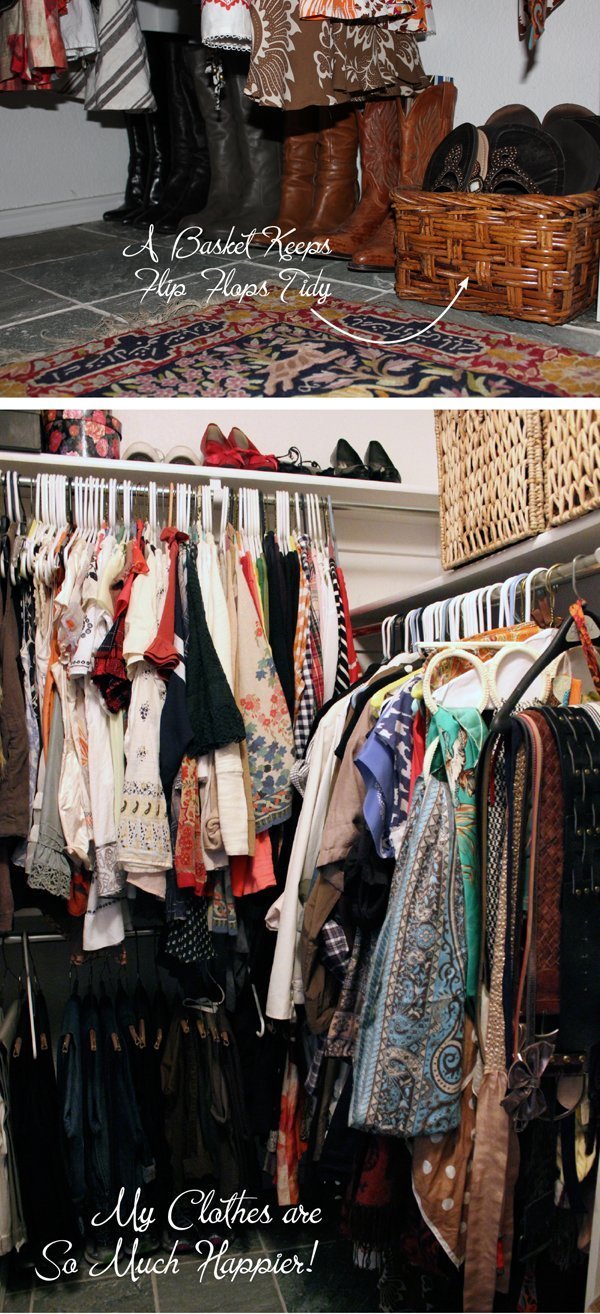 Lauren
|

3 Comments
|
tagged

DIY,

Decorating
in

Fashion,

Home