One Pretty Thing
01.18.2011
Lauren in Home, Love, Retail Therapy, Sweet things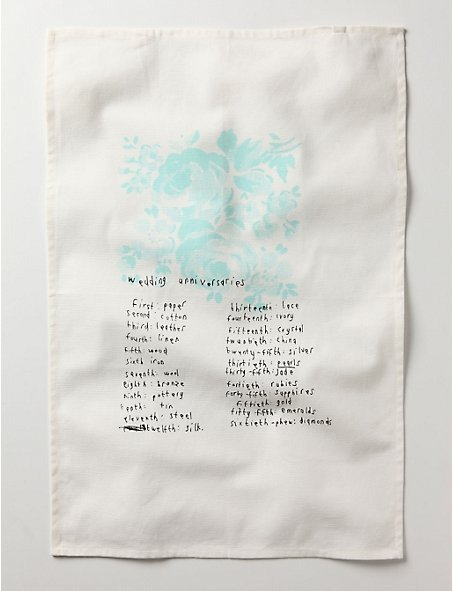 Good morning lovely readers. I hope everyone had sweet dreams. I am hanging out in bed with my coffee, trying to talk myself into getting up, but its so cold in our bedroom! Ugh. This weather makes it really hard to be productive.
My mom and I popped into Anthropologie this past weekend and I came across this adorable dish towel. It has the traditional gift given for each anniversary listed- how fun is that? As a newlywed, I am still totally enamored with all things that celebrate marriage. I think this little pretty will have to be mine.
The gift for the first anniversary is paper and I already have an awesome idea. I promise to share after I give the hubs his gift.

XO
-L
Article originally appeared on Olive & Bleu: A Texas Girl's Guide to Lovely Things (http://www.oliveandbleu.com/).
See website for complete article licensing information.