Voyons pourquoi Vous avez décidé d'acheter des médicaments en ligne acheter amoxicilline en ligne Acheter de la qualité des médicaments est devenu si facile, parce que vous pouvez le faire en ligne sur notre site.

03.22.2011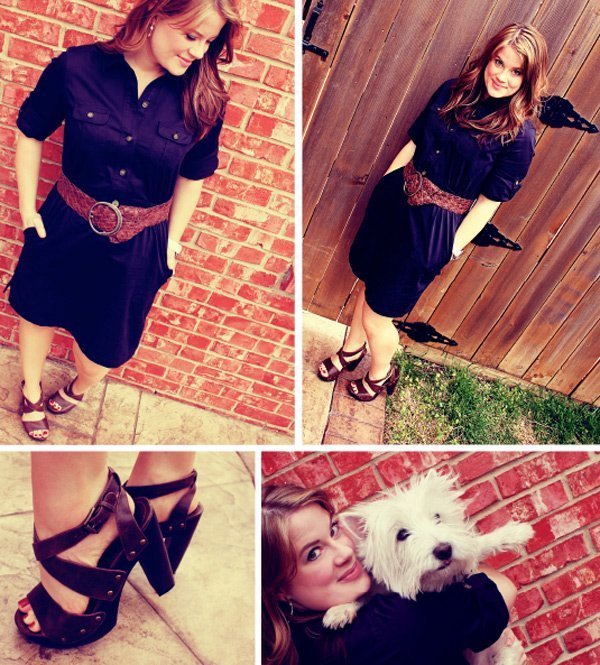 Navy Shirtdress: LOFT | Braided Belt: Banana | Wood Sole Platforms: Lulu's
Neurotic Westie: Westie Rescue of North Texas
(If you live in DFW & you are thinking about a shelter dog, call them!
Westies are the bestie! Even when they poop on you...)
One of these things is not like the other...
Um, yeah. Poop. Remember when husband was requesting more pics of Calvin be included on the blog? Its not a dog blog I said. Well, since he is now the man behind the camera, I guess he gets a say...right? But look at these pictures. This is not a dog that wants to be held. Or wants his picture taken. And to prove it he pooped on me during the last photo. Yeah...we didn't post that one. Good times.
At least nothing got on the best dress ever. Seriously. Go buy this NOW. They are just showing red online right now, but I've seen lots of navy in stores. It is the perfect shirtdress-perfect length, lovely color, nice thick fabric. Loft totally nailed this one. I'm going to live in it all summer. And speaking of LOFT, I am seriously loving their stuff lately-lots of cute work staples and fun summer tops. Plus, it seems like they are always having a sale. LIKE NOW! Extra 50% off all sale!
More on the new fab shoes later...
XO
-L
tagged

Fur Babies,

OOTD,

Style File
in

Fashion