Birthday Wishes
08.8.2011
Lauren in Life, Things I Heart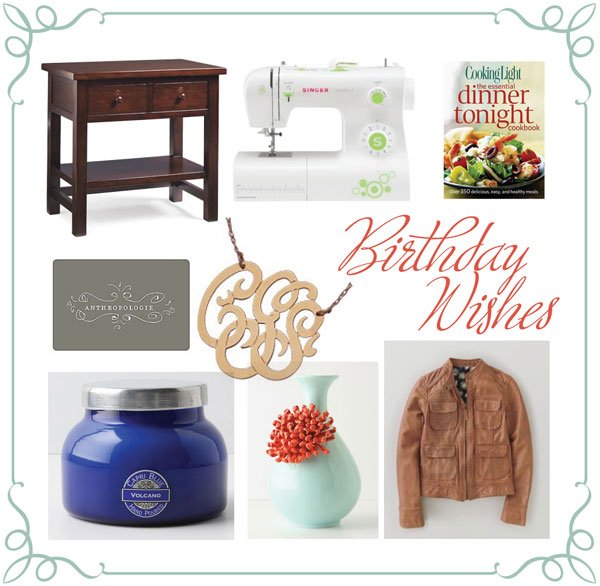 Pottery Barn Farmhouse Bedside Tables (Pretty much obsessed with these.)
Singer Esteem II Sewing Machine (Need this for lots of house projects!)
Cooking Light Dinner Tonight Cookbook (For those "What's for dinner" conundrums)
Anthropologie Gift Card (Pretty much the most perfect gift ever.)
West Ave Jewelry Classic Monogram Necklace ("LKP"- Gold Fill) (Classic keepsake.)
Capri Blue Candle in Aloha Orchid (Smells delicious.)
Curvy Chrysanthemum Vase (Gorgeous girly touch for my office.)
Boden Leather Biker in Toffee (Size 8) (The perfect Leather jacket.)


Tick, Tick, Tick...Thats the sounds of my twenties coming to a close.
So am I stressed? Freaking out? Frantically buying wrinkle cream in bulk?
Surprisingly, not at all. (Well, I did buy some wrinkle cream...its preventative, you know.)
I am actually pleased as punch to celebrate my upcoming 30th birthday.
I have a feeling my 30's are gonna be the best years yet.
(Especially if the birthday fairy brings me these treats...)
XO
-L
Article originally appeared on Olive & Bleu: A Texas Girl's Guide to Lovely Things (http://www.oliveandbleu.com/).
See website for complete article licensing information.