June Wish List
06.8.2011
Lauren in Retail Therapy, Shopping, Things I Heart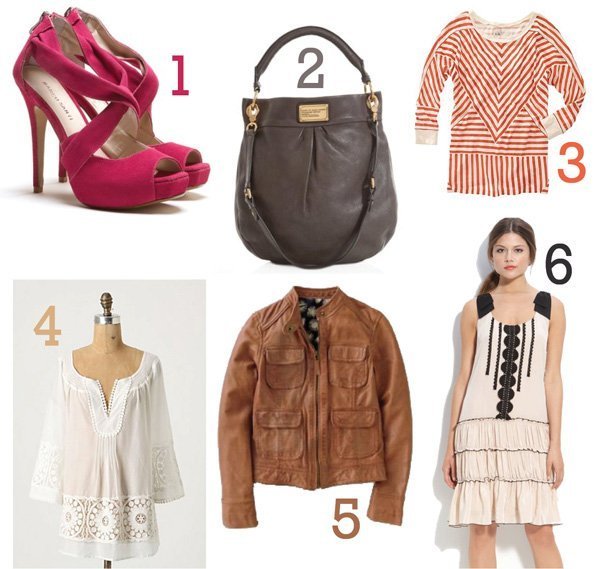 Happy Wednesday pretties! I have to say, its been a rough week for some of my favorite people in the whole world. I won't go in to it, but there have been the losses of some beloved pets and some health scares. Lots of praying going on in our home these days. But thats why I have a blog, by-golly. Because on this little blog of mine, I don't have to think about the hard stuff, and can pretend I live in a world full of limitless shopping budgets and calorie free ice cream. Yay for unreality sometimes. On that note, here are some pretties I am craving for June.
XO
-L
1. Mariah Cross Over Pump
2. Marc by Marc Jacobs Hillier Hobo in Smoke (Perfect 30th Birthday gift don't you think...)
3. Madewell Scenic Stripe Top
4. Anthropologie Filtered Light Tunic (Got this yesterday and I'm in love!)
5. Boden Leather Biker (This is a classic I would keep forever. Want this so bad!)
6. ECI Chiffon Drop Waist Dress

Article originally appeared on Olive & Bleu: A Texas Girl's Guide to Lovely Things (http://www.oliveandbleu.com/).
See website for complete article licensing information.