Scrabble Favors. G E N I U S
05.25.2010
Lauren in Craftiness, DIY, Wedding, Wedding Goodness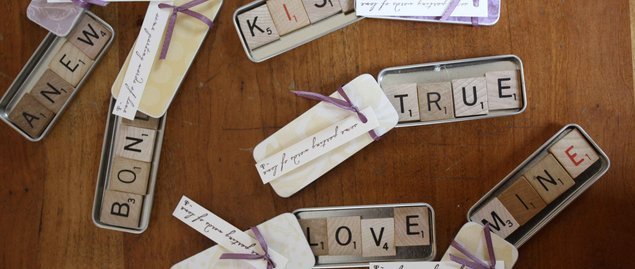 Image by Julie Wan via Project Wedding
I've mentioned before that G and I love us some Words with Friends (scrabble for the iPhone.) We are constantly in the middle of a game, and, I'm not gonna lie, some trash-talking may be involved. So imagine my gasp of sheer joy (so dramatic) when I came across these ADORABLE Scrabble magnet wedding favors. Housed in little tins, each set spells out a four letter word related to love. And its something my guests may actually use! G and my mom keep saying I need to stop adding DIY projects to my long list of wedding to-do's, but I'm really thinking I can't resist making these. Stay tuned...
Get the full DIY here.

XO
-L
Article originally appeared on Olive & Bleu: A Texas Girl's Guide to Lovely Things (http://www.oliveandbleu.com/).
See website for complete article licensing information.